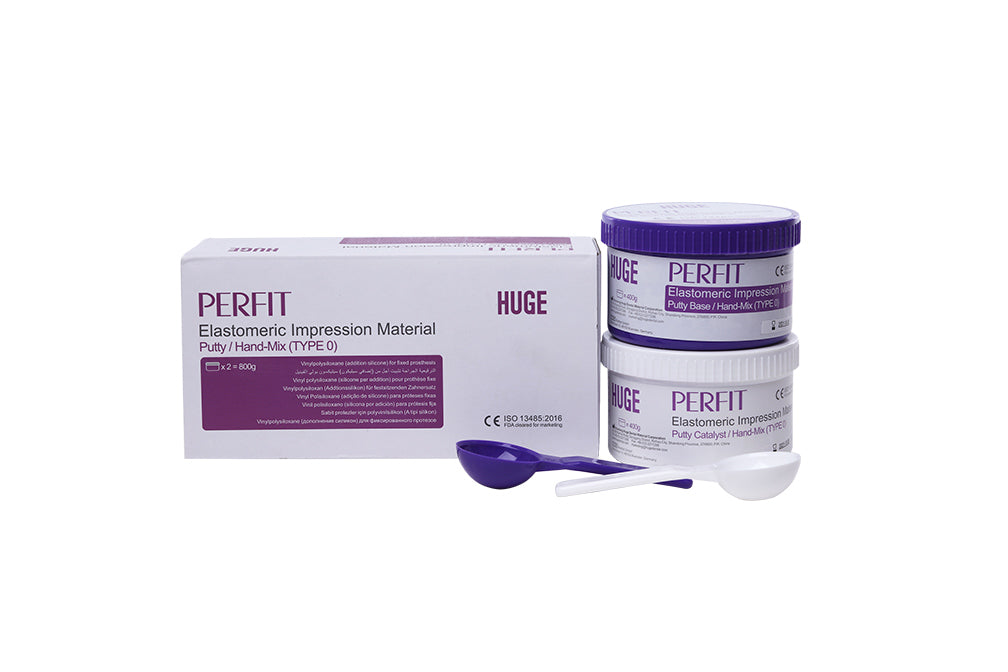 PERFIT Putty
Original price
€33,00
-
Original price
€33,00
Technical Parameters
Technical Parameter

Putty

Type

Normal Set

Fast Set

Mixing Time

30s

30s

Total Working Time

1min30s

1min15s

Setting Time

3min00s

2min30s

Elastic recovery

>99.5%

Dimensional change rate

<0.2%

Hardness Shore A

≈67
Tips:
1. The above mentioned working time refers to that at room temperature (23°C) and normal air humidity (50%). With higher temperature the time can be shorter and with lower temperature the time can be longer.
2. Time in mouth is intended at 35°C / 95°F.
Packaging
Normal Set 400g×2+Spoon×2

Fast Set 400g×2+Spoon×2
Indications
It is one of the important types of dental impression materials that can be used for crowns, bridges, inlays, onlays, implant and orthodontics impression.

Recommended to take two-step impression technique together with PERFIT Light Body.
Advantages
High hydrophilicity for precise and reliable impressions.

High tear strength and tensile strength.

Excellent linear dimensional stability help to matain impression accuracy for up to 4 weeks.

Good biocompatibility, safe to use for patients.